Repaint furniture! Often, to change the interior, repairs are not necessary. It is enough to refresh the textiles, decorate one accent wall with wallpaper, change the carpet, and do something with the furniture. But what? Buy a new one? Do-it-yourself repair expert Kristina Nikiforova shared tips that will help save time and nerves if you decide to repaint a Kanevsky table or an old grandfather's chair yourself.
I won't tell you an easy way of repainting, you need to make an effort everywhere. But if there are a desire and mood, then everything will work out. I have the following sequence of actions: wash, sand a little, dust, degrease, cover with 1–2 coats of soil, paint with 2-3 coats, then wax. Let me tell you more!
What can be painted:
– furniture made of chipboard in a film;
– MDF in film, for example, kitchen;
– lacquered furniture;
– doors, both made of wood and foil;
– tables, tables, beds, wardrobes.
Where to start?
First of all, wash! Thoroughly remove stains, grease, dirt, and odor – all that make old furniture old. To do this, move the furniture away from the wall, cover the walls and floor with a protective film, prepare a soapy solution, and wipe your product with a sponge soaked in it. Try removing stubborn stains with vinegar, rubbing alcohol, white spirit, or acetone. Don't forget to wear gloves and a face shield!
Sand the surface
Your product should be completely covered with small scratches. To do this, use fine sandpaper, but if any of your friends have a sander, it's time to remind those friends of yourself.
Prepare for painting
To do this, you need to dust and degrease the surface: wipe it with a damp cloth, and then cloth with degreaser or alcohol. Remains of glue from the film will also have to be sanded off and degreased. After that, you need to putty the products: remove all holes from old handles, shelves and fasteners, cracks and irregularities. Then sand and degrease the surface again.
Apply a primer
For the paint to adhere to the surface, cover the surface with primer. Choose an odorless primer like Tikkurila's Otex Akva, it doesn't smell! Liquid, water-based, dries quickly. Prime in two layers, each layer should dry.
You can paint it!
For furniture and doors, matt latex paint in different colors, such as Luxens, is suitable. It is convenient to buy paint in Leroy Merlin and immediately tint there. A good color palette of ready-made paints is also there. 
For painting, you need brushes, foam, and nap rollers. Apply wax or oil to protect painted furniture with foam rubber or rags. 
Apply the paint in 2-3 layers, each layer should dry completely.
We cover with wax or varnish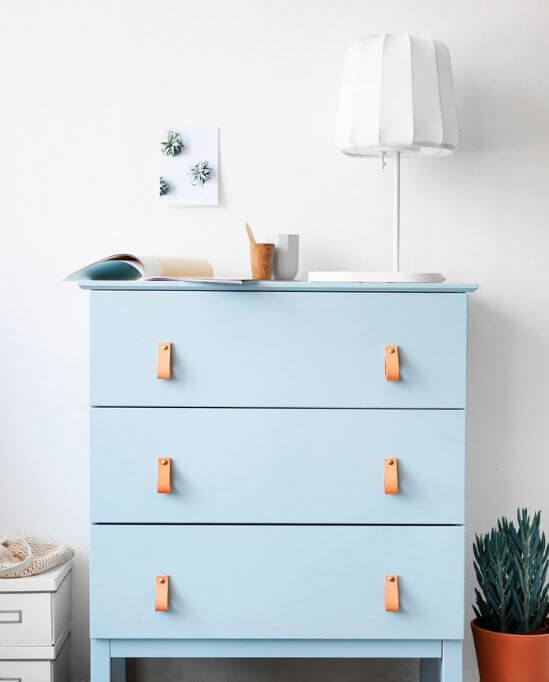 This increases the service life of the coating, prevents abrasion and mechanical damage. You can wash/wipe without fear that the paint will rub off.
It is better to use a painted object after about a month when all layers are completely dry by 100%.