A boyfriend suddenly asked for a visit, or a friend decided to drop by for a tea party with gossip, and there is too little time for cleaning? In this article, you will find some useful life hacks to express cleaning.
Many girls wondered how to clean up in 5 minutes? There is no definite answer to this question because each living space has different scales, like the number of interior items and the degree of space pollution. However, there are several life hacks that will definitely help reduce the time for cleaning the house and greatly facilitate the process itself. And if you regularly perform these simple rituals, you can completely forget about many hours of general cleaning.
Cleaning is not the most exciting activity, according to most. A lot of time is spent, but the result is not long enough, especially if children or animals live with you. Sometimes they just give up – they seem to have just cleaned up, and scraps of wool and designer parts are already lying on the freshly washed floor. Sound familiar? And for us. And like you, we found ourselves in situations where you need to remove everything not so quickly, but quickly. For example, when you have just returned from a business trip, and the owners of the apartment you are renting are going to pay you a visit, and you stand and do not know what to do first. Cosmo will help you: we will tell you how to do the cleaning correctly and how to organize the processes in your home so that you spend minimum time on cleaning with maximum results.
How to make cleaning faster and easier: step by step instructions
To reduce the time for cleaning an apartment or room, it is enough not to litter the space. This simple truth will help you save half your time, and you will not have to rush around the house with a rag at the ready every time. It is quite possible to clean your home in 5 minutes if you keep it clean for many days and follow these simple rules.
Always move from top to bottom: first, wash the dishes, wipe the furniture surfaces, and only then take the vacuum cleaner in your hands. Washing the floor is the final stage of any cleaning.
Think over the route: from the hard-to-reach corners of the apartment, move towards the front door.
Define priority areas: first of all, clean up where the most dirt has accumulated, and if the kitchen floor is sticky, it is better to start cleaning from the kitchen.
Get the right cleaning supplies: Microfiber rags are much better at handling dirt than their old sock counterparts or a faded towel. To wash the tiles, choose products with a whitening effect, and buy a special powder for blockages in the sink.
Wash the dishes immediately after eating: in the dishwasher or by hand, the main thing is not to let the dirt dry out. This is fraught with blockages and stubborn stains (for example, soot and fumes in pans, tea plaque). Before a multi-course dinner, fill the sink with lukewarm water and detergent and refill the dishes as they empty.
Clean the stove last: fill it with a cleaning agent and start cleaning the area, return to the stove at the very end, when the whole kitchen is shining clean.
Take care of your hands: wash dishes and all surfaces with rubber gloves! The skin of the hands should not come into direct contact with household chemicals. Otherwise, you will have to spend a few more hours on the treatment of chemical burns and a new manicure.
Keep it clean every day: remove paste and water stains on bathroom mirrors immediately after you finish washing; make sure that the toilet and sink are always clean; wash your bathroom curtain once a week.
Get rid of unnecessary things: boxes, cardboard boxes, empty bottles from under cosmetics not only collect a lot of dust and take up space on the shelves, but also visually litter the home. The fewer objects in the house, the cleaner and brighter it becomes around.
Tidy wardrobe: try to keep a closet cleaning schedule, but if you can't do it, then just get rid of unnecessary things once and for all.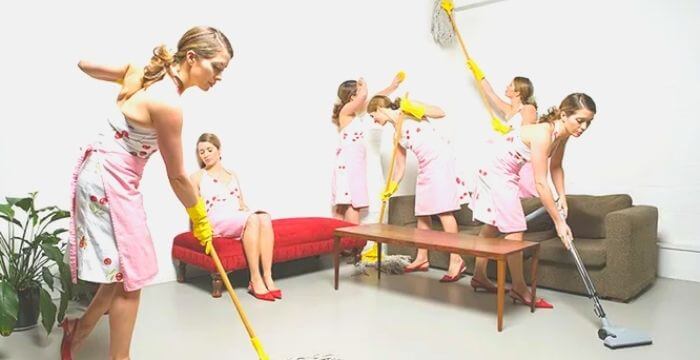 How to do general cleaning at home
In order to do general cleaning in an apartment, private house, or rented room quickly and efficiently, it is important to learn one rule: do not be afraid to throw away the excess.
Start general cleaning your home by getting rid of the trash. While everything is quite simple with bubbles and jars in the kitchen and in the bathroom, then cleaning the wardrobe usually takes hours. Start tidying up your wardrobe from the top shelves, gradually moving to the bottom. Sort your clothes into the ones that should be put in the dirty laundry basket and the clean ones that you just need to fold or hang neatly. Keep out of season clothes away or pack them in special covers. Do not rush to throw old clothes into the trash can: it is best to hand them over for recycling. In some stores, you can get a discount coupon for your next purchase – a useful and profitable life hack!
Wash your clothes in the gentle "delicate wash" mode or soak them in cool water with fabric softener: low temperatures will not damage the fabric dye, and the fabric softener itself will leave a pleasant smell.
Cleaning the floor won't take long if you sweep or wipe down particularly dirty areas every day: the area by the front door, the patch by the kitchen sink, and the area around the pet's litter box. Maintaining daily cleanliness in areas of the greatest accumulation of dirt will significantly speed up the time for cleaning floors throughout the house.
Divide the process of putting things in order and cleanliness in all rooms into three stages: sorting and throwing away excess, dry cleaning with a rag, broom, and vacuum cleaner, wet cleaning with a mop (a rope will help to cope with washing the floor faster than a microfiber mop).
And remember the fewer things, the easier it is to breathe in the house and the cleaning is faster!
Universal life hacks for cleaning
Of course, when cleaning rooms, apartments, or houses, there are some peculiarities that must be taken into account, but there are also universal life hacks that can be useful to anyone in any home. We have already mentioned some of them – for example, unnecessary things litter the house, and their absence frees you. If you rent an apartment, then, most likely, you, in addition to unnecessary things, have not the most comfortable closets. This is exactly the case when a minus for a minus gives a plus – remove the unnecessary where it is inconvenient for you to reach, free the shelves and surfaces that you can easily reach, put everything that you use regularly there. All sorts of large things go to the mezzanine, strange dishes and figurines go to the upper shelves of kitchen cabinets, some unnecessary curtains that are dear to the owners, like memory, in the depths of the wardrobe.
If you are taking your things apart, take the advice of Marie Kondo, the cleaning master. She recommends looking at each thing from the standpoint of its benefits for you, including emotional – whether this thing is convenient, whether it pleases you, whether it is used, and if so, how often. Of course, this is not a reason to throw out, for example, wine glasses, after all, this is a thing that comes in handy from time to time, but a coat that you don't really like, but it's a pity to throw it away, can be given for recycling, to a thrift store or offered to a friend, if she likes things like that. In some cities, garage sales, clothes-throwing parties, and other events are held in which participants change things that do not fit them (not only clothes but also the same dishes) – see if there is such a thing in your city. Sometimes there are real finds – and by the way,
Connect your household to cleaning, if possible. Not that this could be called a life hack, of course, but situations, when one person tries to embrace the immensity, are quite common. Children, if they are not quite toddlers, and themselves, for example, will carry stacks of clean clothes at least to their room (even if they are then distracted by toys), but there is nothing to say about adult pets.
When you start cleaning, take a box with you, where you will put everything that is not in "your" room. This is much faster than putting each item in place separately. Then the things from this box can be quickly sorted out and again distributed to the desired rooms. Optimization is our everything.
As part of not so much express cleaning, as reducing the overall chaos, use the time when you are waiting for something to micro-clean. While the pasta is boiling, you can wipe the table, while the kettle is boiling – collect garbage in the kitchen, while the soup is heated in the microwave – load the dishwasher. All this is done in a matter of minutes, and later you will not need to specifically go to the kitchen or anywhere else to do something small. By the way, if you don't have a dishwasher, think about starting one? Even in a small kitchen, you can usually find a place for at least a compact tabletop model. The dishwasher will pay for itself pretty quickly by saving not only your time, but also water, and it washes very clean.
Another life hack to ease the burden of cleaning is to put small trash cans wherever they can come in handy: at the desk (for papers), in the bathroom (for cotton swabs), in the hallway (for receipts). Then you can shake them out – and again there is cleanliness and order everywhere, and there is no small rubbish lying around, which is always so annoying. It is also useful to put a special box in the corridor for everything that comes from the mailbox or just in the pockets. You can put bills there, keys that are not required every day, trifles. Sorting out the contents of such a box once a week or two is much easier than doing a complete cleaning in the hallway.
In general, any container for storing small items makes cleaning easier. Imagine how you wipe the shelf, first removing from it one by one all your bottles of varnish or perfume. It is easier to remove one box, and it can look much more aesthetically pleasing than a bunch of different-colored containers.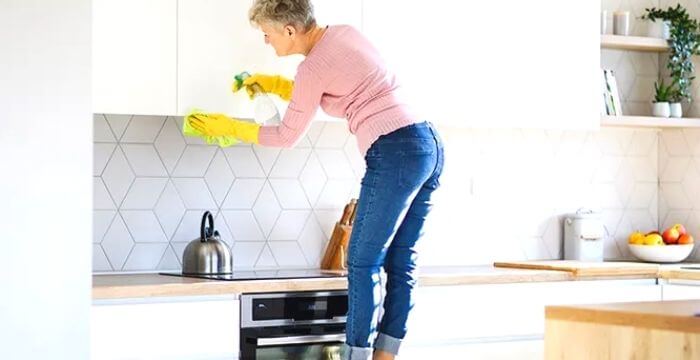 We have already talked about this, but it is worth repeating: when cleaning, always go from top to bottom – after all, dirt always flies down, it cannot do anything with gravity. Start with the upper shelves, continue with the tables, end with the floor. By the way, if you tighten the top of all the cabinets with cling film, you will not need to wipe anything there, you just need to remove the film and put on a new one – and everything is perfectly clean. This is especially important for the kitchen, because not only dust, but also fat accumulates on the cabinets, and it is much more unpleasant to wash it.
Now you know how to clean up in 5 minutes and how to optimize things in the house so that they are easy to clean. A couple more life hacks to make the process more pleasant: while you are cleaning, ventilate the apartment with fresh air and breathe more pleasantly, and it will take away all extraneous odors from the house. If necessary, the smell of baking will help to add coziness – send something quick to the oven before cleaning, and your guests will immediately feel better, and there will be something to treat them to. Also, while cleaning, turn on energetic music, and the body itself will begin to move faster. There is no law that makes cleaning boring!